Setting
The comics were a tie-in publication to Back to the Future: The Animated Series, and shared that show's characters, setting, and designs. The second, third and fourth issues were simply comic book adaptations of episodes of the animated series, rather than new stories. By the time that the publisher commissioned writers to produce something more original, the comic book title was not selling well enough to continue beyond a seventh issue.
Issues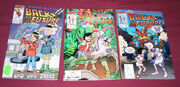 See also
Ad blocker interference detected!
Wikia is a free-to-use site that makes money from advertising. We have a modified experience for viewers using ad blockers

Wikia is not accessible if you've made further modifications. Remove the custom ad blocker rule(s) and the page will load as expected.