Back To The Future: The Pinball
Developer
Data East
Release Date
1990
Genre
Pinball 
Number Of Players
1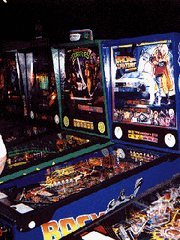 Back to the Future: The Pinball is a 1990 pinball game designed by Joe Kaminkow and Ed Cebula, with programming by Rehman Merchant and released by Data East. It is based on the Back to the Future trilogy of movies.
This game features three songs that were featured in the movies: "The Power of Love", "Back in Time" (originally performed by Huey Lewis & The News), and "Doubleback" (originally performed by ZZ Top). It also includes the Back to the Future Theme.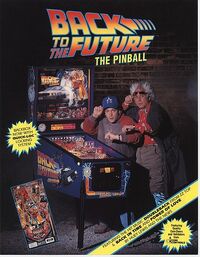 Due to licensing restrictions at the time, the likeness of Michael J. Fox was not used, though Christopher Lloyd's was.
Fox's replacement in the promo picture is Brad Faris, the son of Paul Faris, who designed the artwork for the table.
Appearances
Characters
Creatures
Locations
Vehicles
Weapons and technology
Miscellanea
External links
Ad blocker interference detected!
Wikia is a free-to-use site that makes money from advertising. We have a modified experience for viewers using ad blockers

Wikia is not accessible if you've made further modifications. Remove the custom ad blocker rule(s) and the page will load as expected.