For the article about the video game, see Back to the Future: The Game - Episode 5: OUTATIME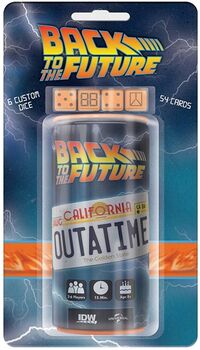 Back to the Future: OUTATIME was a dice game released by IDW Games in June 2016.
Publisher's summary
Get ready for fast-paced fun — 88 MPH fast, to be exact. Back To The Future: OUTATIME is a dice rolling, press-your-luck race to be the first to gain the 1.21 gigawatts needed to power your DeLorean!
In a unique twist, your opponents can use some or even all of your dice to power themselves up on your turn, so you'll have to decide when to play it safe and when to put the pedal to the metal in this lightning-fast adventure!