BTTF.com, or BackToTheFuture.com, is the official website for the Back to the Future trilogy and the Back to the Future extended timeline.
Until 2010, it was the primary fan site for Back to the Future and its related sequels and spin-offs. Some of the content, from the time period when BTTF.com was a fan site, is archived in the news and events section of the official website.
History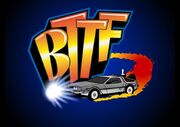 BTTF.com was founded in 1995 by Stephen Clark, originally intended as an online component to the official Back to the Future fan club and quarterly fan magazine he ran at the time, the Hill Valley Telegraph (1992-1996).
Between 1995-1997, it was simply known as Back to the Future...The Web Page and was the very first Back to the Future site on the Internet. In the early years, it was hosted on a single-user dial-up account at Traveller Internet Services in Huntsville, Alabama. The BTTF.com domain was registered on January 22, 1997, nearly two years after the site started.
Features
The site hosts interviews with, and news about, the trilogy's cast and crew members.
Retired features
In November 2008, they launched a new wiki titled "Jigowiki" to cover items of the Back to the Future universe in a new format, unaware of Futurepedia's existence. Jigowiki has since been removed from the site.
The site once used a splash page which showed the visitor the current time, date, and day in the manner of the opening text in Back to the Future Part II and Back to the Future Part III.
The site also hosted a shop with official BTTF merchandise, which was eventually spun off into its own site at BTTF.net.
Until 2010, when BTTF.com became the official Back to the Future website, it hosted a long-running user forum.
Offline
On February 16, 2010, BTTF.com was struck by a malicious virus and taken offline. When asked about the site deactivation by a Facebook fan in March 2010, the website administrator, Stephen Clark, responded: "Major technical problems. We'll be back in several weeks."
Until May 12, 2010, the URL BTTF.com redirected to the store at BTTF.net. On May 12, the blog back-to-the-future.net was established. BTTF.com was set up to redirect to back-to-the-future.net. The first blog entry, titled "So What Happened to BTTF.com?", gave an update on the status of the old site.[1]
In September 2010, BTTF.com was brought back online. Shortly afterward the site was redesigned as the official Back to the Future website.
References
External Links