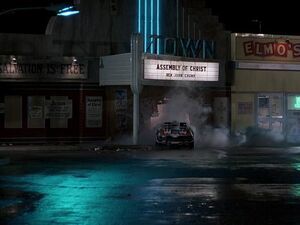 The Assembly of Christ was a church located in downtown Hill Valley in 1985. It was housed in the building that had been the Town Theater, and still had the theater's neon lighting on its building. The church was pastored by Reverend John Crump.
On the morning of October 26, 1985, Marty crashed the DeLorean time machine into the Assembly of Christ after his return from 1955.
Ad blocker interference detected!
Wikia is a free-to-use site that makes money from advertising. We have a modified experience for viewers using ad blockers

Wikia is not accessible if you've made further modifications. Remove the custom ad blocker rule(s) and the page will load as expected.