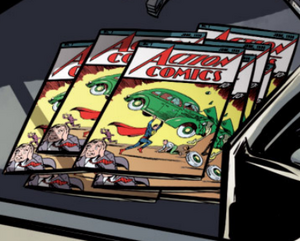 Action Comics is an American comic book series by Detective Comics, now known as DC Comics. Issue #1, released on April 18, 1938 (cover dated June 1938), saw the comic book debut of Superman, cost 10¢ and is now one of the most highly sought after comics in the collector's market.
On August 8, 2015, Emmett Brown won first prize at the Hill Valley 1980s Car Expo with his DeLorean, which was 10% off a hover conversion worth $3995.00 at Goldie Wilson Hover Conversion Systems. To get the money he needed for this and the Mr. Fusion, which he had spotted in a store window for $8200, Doc searched the internet for the best investment to make, then traveled back to April 18, 1938 to pick up several new copies of Action Comics issue #1.
He sold one in 2015 or beyond to get the money he needed, and then traveled to 2015 or beyond, and sold another at Southby's Auction House for $2.5 million.
Behind the scenes
Appearances
See also
External links
Ad blocker interference detected!
Wikia is a free-to-use site that makes money from advertising. We have a modified experience for viewers using ad blockers

Wikia is not accessible if you've made further modifications. Remove the custom ad blocker rule(s) and the page will load as expected.