AT&T
Talk

0
1,654pages on
this wiki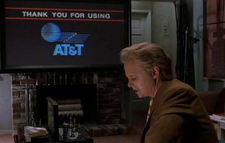 AT&T, American Telephone and Telegraph, was a company that wired connections for video conferences on video screens, as well as providing video telephones, fax machines and thumb pads to homes, by 2015.
At the end of the video telephone call between Marty McFly and Douglas J. Needles, an on-screen message appeared reading "THANK YOU FOR USING AT&T" — the text of which was also read out by a female announcer's voice.
A video payphone bearing the AT&T logo was also seen in Courthouse Square (albeit only from behind), where Marty Jr. was spotted at one point through a binocular card used by Emmett Brown.
Appearances