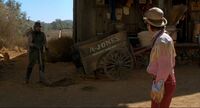 A. Jones Manure Hauling was a manure-hauling company owned by A. Jones in Hill Valley. The company was known to have been in business by 1885.
History
In 1885, after a duel between Marty McFly and Buford Tannen, the latter was knocked unconscious by several punches and collapsed — straight into a wheelbarrow of manure. These meetings with manure would be a tradition continuing throughout the generations of Tannens.
Appearances
Ad blocker interference detected!
Wikia is a free-to-use site that makes money from advertising. We have a modified experience for viewers using ad blockers

Wikia is not accessible if you've made further modifications. Remove the custom ad blocker rule(s) and the page will load as expected.