1955
Talk

0
1,798pages on
this wiki
"Well, you're safe and sound now back in good ol' 1955."
—Lorraine Baines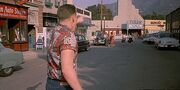 1955 was a year exactly 30 years before 1985. Life was simpler when compared to 1985 or 2015, though not as antiquated as 1885.
The Clock Tower functioned until it was struck by lightning on November 12 of that year.
New technology
In relation to 1931
New locations
New culture
New slang
Events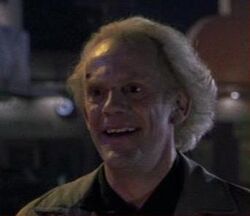 Marty (Marty A) takes Lorraine to the dance, but Biff interferes and George punches Biff, saving Lorraine and causing her to fall in love with him;
Marty B also keeps Biff's gang from jumping Marty A, without Marty A noticing;
Marty B gets the almanac from Biff and burns it, thus erasing the alternate 1985 and restoring the corrupted timeline back to normal. The 1985 Doc, in the DeLorean, gets struck by lightning and sent back to 1885. A car approaches a moment later with a Western Union man, who gives Marty a letter from Doc in 1885. Marty hurries back downtown, to see the 1955 Doc;
At 10:04pm, lightning strikes the clocktower, Marty A goes back to 1985, but Marty B scares 1955 Doc by "returning" seconds after Marty A was sent back to the future.

Sunday, November 13th: 1955 Doc reads the letter his older self in 1885 has written.
Monday, November 14th: Marty and Doc uncover the DeLorean from the Delgado mine at the Boot Hill Cemetery, where the 1985 Doc was buried in 1885.
Tuesday, November 15th: Doc repairs the DeLorean.
Wednesday, November 16th: Marty leaves 1955 and heads back to 1885 to rescue Doc.
Real world
Behind the scenes
Saturday, May 14: Director/co-writer Robert Zemeckis turned 3 years old.
Wednesday, May 25: Co-writer Bob Gale turned 4 years old. In commentary to the first film, Gale noted that his father's birthday is November 5, but that the inclusion in the film script was just a coincidence.