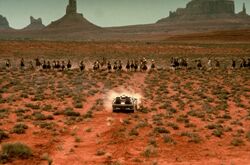 1885 was a year a full century before the modern time of Marty McFly: 1985. It was the 20 years since Hill Valley's founding and a festival was held to honor the anniversary.
The town consisted of two major dirt streets which intersected at Courthouse Square and the construction of a new county courthouse and clock tower. One of the streets went to the Hill Valley Train Station.
Most of the surrounding countryside was mountains and valleys with deciduous trees and farther out desert with mesas to the north of the town and the ravine to the southeast of the town.
New locations
To previous history
New culture
New slang
Events
Appearances
Notes and references
Ad blocker interference detected!
Wikia is a free-to-use site that makes money from advertising. We have a modified experience for viewers using ad blockers

Wikia is not accessible if you've made further modifications. Remove the custom ad blocker rule(s) and the page will load as expected.